Even though I'm the "Editor-in-Chief" I sometimes feel like Paula's wingman when it comes to Lesbiatopia, especially in regards to matters of homophobia and sticking up for what's right when it matters the most.
Although I have been relatively quiet through this whole "Digg" ordeal, that does not mean I have not felt strongly about it. oh contraire! And let me tell you, I will not let these people pull the proverbial wool over our eyes.
I think, whatever Digg thinks they have up their sleeve, is absolutely unacceptable and I fully believe that actions should (and will) be taken to get to the bottom of this. I know if we can all band together, especially the blogs that have also been prohibited from bookmarking their articles, than I think we can make a fine example of Diggs rude and overly
misogonistic
fascist forms of censorship.
Had I known they were a company like this, I would not have submitted to the likes of their ways from the very beginning, but you live and you learn and the one thing I've learned is that when something like this happens, you do NOT (I repeat DO NOT) sit back and do nothing.
The GLBT community has come so far in this day and age. I am a firm believer that social justice, grass roots lobbying and full media exposure will one day give ALL members of the GLBT community the full rights they deserve - all the way from marriage down to the freedom to post gay and lesbian-themed content on various websites without the fear that they will come under or attack or be removed for "pornographic" reasons.
Being a lesbian has nothing to do with pornography, and as much as the straight heterosexual world would like to think that it does, the two are actually very different. Lesbian sex is not a product of entertainment for the straight hetero world, and our choice to include in-depth articles regarding lesbian sex is 1) not for the purpose of providing pornographic material and 2) is certainly not for the pleasure and excitement of straight men.
We have offered a category called "Sex" because we feel sex education in the lesbian community is not only lacking, but it's so privy to silence that young lesbian women looking for answers to many of their sex-related questions, have no where to go. We want to be that resource that provides answers to questions about safe and healthy sex education.
In regards to our sex articles, I have even requested that Paula, our resident Sexpert, only post her sex-related articles on the weekends to keep any explicit material to "weekend reading only". If people, especially the people at Digg, had actually taken the time to read not only our articles, but also our purpose, they would see that Lesbiatopia is as far from a pornographic blog that it can be. I think our readers and writers will both agree with me on that.
So in conclusion, no we will not sit back and do nothing about this situation, but at the same time, a silly little website run by some immature gentleman, is NOT going to stop Lesbiatopia from having from the best, most fun and interesting lesbian blogs that can be found on the web.
Stay tuned, because as I always say: "The best is yet to come!"
The list of banned continues:
-
Cap'n Dyke
-
Just a Girl in Short Shorts
- Lesbiatopia
- A Gay parenting blog on Parents.com
Make a Lesbian Fashion Statement
Shop at the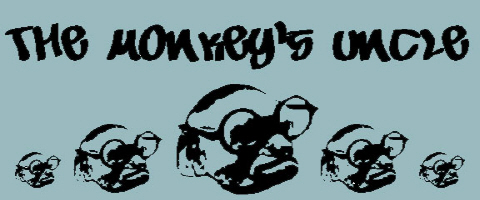 Roses are red, violets are blue, please leave your comment, after your reading is thru.