As I sit watching an episode of the L Word, amongst a room full of lesbians, I can't help but think about how much I miss men. Yes, I've said it, the breed of humans that somehow becomes distant admist the sexual exploration of women, has created a longing in my heart. I miss my guy friends who make me laugh, are hardly ever too sensitive, who almost never gossip, and simply just look to have a good time. Try to entertain a "he said, she said" story with a guy, and its lost somewhere between NFL and a Victoria Secret commercial.
When I was coming out, I found it very difficult to be accepted in the straight community. Every weekend, I would have two choices, either go with friends to a straight bar, or spend an evening by myself. It's not that I wasn't flattered when a drunk guy would insist upon slobbering all over me, but I felt uncomfortable. Many of my straight friends would use these same reasons to justify never going to a gay bar with me. This is what started me on my mission to make as many gay friends as I could find.
Perhaps its the formation of identity that causes us to push away everything that we
are not. I needed to find my identity, whatever it was, amidst the rainbow of my fellow lesbians, so I turned away everything that I could not identify with. There was comfort in finding people who were just like me, facing the same struggles and being able to be myself around.Years later however, I find that my closest friends are still my childhood straight friends. It's not that I haven't made wonderful gay friends, but I guess with age comes a better understanding of people.
A gay women's group that I am part of had difficulty expanding membership to straight women. I had mixed feelings about this; at first I could understand gay women wanting a safe and welcoming place of their own to meet and mingle. However I also had difficulty understanding how a group so familiar with discrimination could ever send anyone away?
Strange how fear and prejudice breeds feelings of entitlement. Are we not the same women who wanted so badly to be part of a straight group that wouldn't accept us? Why then, must the isolation live on? I would never befriend a straight person who was not accepting of the GLBT community, why then would I befriend a gay person who was not just as accepting of others?
I've lived as part of the straight community for eighteen years, and have seen prejudice influence so many people, that its hard to tell who is accepted and who is not. I have lived as part of a gay community for almost seven years, and have seen discrimination amongst ourselves. Gay men dislike lesbians, who dislike transgendered, who dislike the lipsticks, who dislike the butches, who couldn't possibly stand the bisexuals.
What I have learned is that what makes a good person has nothing to do with what color one is on the rainbow, what closet someone has recently came out of, or what sex he or she was born into. In fact, if it wasn't for differences, we could never truly understand that which is the same.
If we want to be treated and accepted as equals, than we shouldn't treat being gay as the opposite of straight. We should accept people for who they are, not what gender they are attracted to and we should always be open to change.
Who knows, maybe we are really all bisexual... then what are we all going to do?
Make a Lesbian Fashion Statement
Shop at the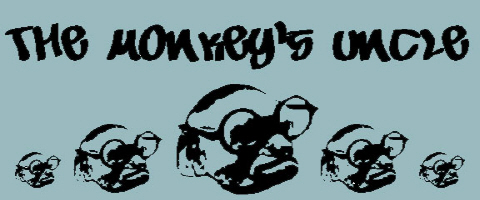 Roses are red, violets are blue, please leave your comment, after your reading is thru.