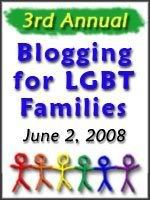 Today is the 3rd Annual Blogging for LGBT Families Day and throughout the day you will find blogs across the internet posting in support of LGBT Families. Each blog who posts in support of Blogging for LGBT Families Day is listed on the list of contributing posts in an effort to raise awareness for LGBT families and the blogs who support them. This event is brought to you by
The Mombian Blog
which offers
"Sustenance for Lesbian Moms"
and is sponsored by
The Family Equality Council
.

Posts are being added all day long, and so far there are some pretty interesting posts to check out. Here is a list of my favorites so far:

Beyond (Straight and Gay) Marriage: Laws for LGBT Families with Children - link

Alabama Blue Dot: Family by Fate and by Choice - link

BlogHer - Denise: Blogging for LGBT Families Day: Just like you, except for the hate thing - link

Cheryl's Mewsings: Introducing COLAGE - link

Damn Straight: Not really an issue … until it is an issue - link

Parenting Beyond the Pale: Coming Out' at Costco - link

3 Garzas & La Gringa: Family Day …Every Day - link

If you would like to participate in the 3rd Annual Blogging for LGBT Families Day to help to raise awareness and show support for LGBT Families, simply post an entry on your blog and send the link to lgbtfamilies@mombian.com. Also be sure to visit the list of contributing posts for more blogs like this one who support the rights of families in the LGBT community. There are some great blogs showing support this year so you'll find some new favorites to add to your feeds and bookmarks. A special thanks to Mombian and The Family Equality Council for putting this web event together, and for helping to raise awareness for LGBT families around the world!