Let's get something strait from the get go:
women have evolved more than men
. And as far as attraction goes, we have the capacity to observe deep inside the soul, rather than gawking at one's ass or physical attributes. Yes, we have evolved. Women are turned on by brains rather than beauty.
Can you imagine women like Barbra Streisand, Kathy Bates, Meryl Streep, Hilary Clinton, or Nancy Pelosi being referred to as sexy? Not in this lifetime. Men consider women such as these a threat and intimidating. What a shame.

Kathy Bates had a breathtaking scene in "About Schmidt." Picture it: Jack Nicholson relaxing in a bubbling hot tub alone. And Bates walks up to the tub and asks Nicholson, "Mind if I join you?" Before he has a chance to answer, Bates drops her fluffy towel and hops in. Now, Bates is not a small woman, but she reveals every roll and fold and both beautiful drooping breasts. She was stunning. She was every woman who undresses in the dark, but desires to undress in the light.

Empowerment. Liberation. A small step for women-kind. Real Women loved this scene, but men thought it revolting. Why?

For those of you who have seen the movie "Kissing Jessica Stein" (or if you're like me and you've seen it 100 times) you'll remember this particular scene where they discuss the interesting phenomenon of "sexy-ugly", a term which I just love:

Jessica:

[

telling Helen why her relationship with Larry didn't work out

] He just wasn't funny, you know? That's always been my problem, I think. Not smart or not funny. Or not smart and not funny. Or smart, but in a totally unappealing way like funny stupid or funny dopy, rather than funny witty, or funny irony or funny goofy. Or, you think they're smart- and then you realize that they're not- and that's funny. But funny tragic. And then, if you're lucky enough to find someone who's the right kind of smart and the right kind of funny, usually they're just... kinda...


Helen:

Ugly?


Jessica:

Ugly, exactly. Oh my god, is that awful?


Helen:

No, not at all. Ugly doesn't do it for you. That's okay. See me, I'm kinda into ugly... But only if it's sexy ugly.

What is

sexy-ugly

exactly? The Urban Dictionary defines it as someone who is not conventionally good-looking, but possesses an appealing personality, style, or talent, and is thus considered sexually attractive by many.


I am one of those people that can appreciate sexy-ugly. To me, beauty comes in all sorts of shapes, sizes, appearances and attitudes. If there's anything I can't stand, it's the media's warped perception of how a woman should look. Sadly, many women try to stuff themselves into the pandora's box of beauty according to the standard marketed by the mass media: large breasts, flat stomach, flawless skin and curves in all the right places. In other words, society says that if you don't look like Barbie, you're not beautiful.

I decided to say screw fuck you to conformity and pick out the Top 10 Most "Sexy-Ugly" (in a good way, not a bad way, of course) women that are portrayed in pop-culture and the media. These are women who have taken a lot of flack for not falling into the mold of conventional beauty, yet to me they are still incredibly sexy and totally kick ass! Remember, these are my own personal picks with that said, beauty is in the eye of the beholder. I would love to hear some of your own sexy-ugly choices, too, so please post comments with your own picks!



The Top 10 "Sexy-Ugly" Celebrities





10. Lisa Edelstein


Some of Lisa's TV roles over the years include the lesbian sister on ABC's

Relativity

in 1996 and Rob Lowe's date turned high-priced call girl on

The West Wing

in 1999. You may remember her best as the male-to-female transsexual on

Ally McBeal

in 2000 who dated Mark Alberta (unbeknown to him). In 2004, she was cast as Dr. Cuddy, the Dean of Medicine at Princeton-Plainsboro Teaching Hospital and frequent character foil to title character Gregory House (Hugh Laurie) on FOX's hit show

House, M.D.

Lisa definitely does not follow the laws of conventional beauty but she does have a certain hint of masculinity and something about her that makes her the perfect sexy-ugly candidate. That is why we chose her for Lesbiatopia's #10 spot.





9.

Sandra Bernhard


Sandra Bernhard is an American comedian, singer, actress and author. She first gained attention in the late 1970s with her stand-up comedy where she often bitterly critiques celebrity culture and political figures. She is also famous for her close friendship to Madonna during the late 1980s. Bernhard is number 97 on Comedy Central's list of the 100 greatest stand-ups of all time. Ironically, she is number six on Maxim's 12 worst stand-ups of all time (apparantly her breasts weren't large enough and her hair not blond enough for Maxim's overly chauvinistic audience). Bernhard was like the Kathy Griffin of the 70's, only sexier. But don't let those big, pouty lips fool you; Bernhard once referred to someone who might not approve of her outspokenness as a "...little freaked out, intimidated, frightened, right-wing Republican thin-lipped bitch"... It's an attitude like that which easily makes Sandra our #9 pick.





8.

Ellen Degeneres


Ellen Lee DeGeneres is an American stand-up comedian, television host and actress. She currently hosts the Emmy Award-winning syndicated talk show

The Ellen DeGeneres Show

. She has hosted both the Academy Awards and the Primetime Emmys. As a film actress, she starred in

Mr. Wrong

, appeared in

EDtv

and

The Love Letter

, and provided the voice of "Dory" in the Pixar animated hit film

Finding Nemo

. She also starred in two television sitcoms,

The Ellen Show

from 2001 to 2002 and

Ellen

from 1994 to 1998. Ellen's outspoken efforts on behalf of the gay and lesbian community, in addition to her recent public marriage to Portia De Rossi is nothing short of sexy. Ellen's sense of humor coupled with that infectious smile makes up for her lack of curves and conventional beauty, making Ellen our #8 pick.





7.

Madonna


Madonna is an American pop singer-songwriter, record producer, and actress. She is known for her works that explore religious symbolism and sexual themes and she defined herself in the 80's by lace tops, skirts over capri pants, fishnet stockings, jewelry bearing the Christian cross, and bleached hair making her a female fashion icon. Madonna has been making heads turn for years, not necessarily with good looks (many poke fun at the gap between her front teeth), but with her sexual prowess, amazing talent, confidence and the fact that she's one of the most successful female recording artists of all time. All of these successes, coupled with the fact that the 80's would've been nothing without her, make Madonna incredibly sexy in her own special way, and our pick for #7.





6.

Christina Ricci


Christina Ricci is an Emmy Award-nominated American actress who first achieved fame for her role as Wednesday Addams in

The Addams Family

and its sequel

Addams Family Values

. Ricci endured the transition from a child star to teenage idol and adult actress and currently holds her own production company, Blaspheme Films. Having been criticized for looking like a 12-year-old girl with a large forehead, Christina Ricci is definitely not your typical Hollywood-type actress when it comes to looks. But her kickass roles as a crazy lesbian in

Monster

, and a woman with a deformed face in

Penelope

, make her choice to take on less-than-desirable acting roles plus her totally awesome talent, sexier than all the big, breasted bimbos at a Playboy bunny convention, and our pick for #6.





5. Barbara Streisand


Barbra Streisand is an American singer, film and theater actress. She has also achieved some note as a composer, political activist, film producer and director. She has won Academy Awards for Best Actress and Best Original Song as well as multiple Emmy Awards, Grammy Awards, and Golden Globe Awards. Barbara is one of the most commercially and critically successful female entertainers in modern entertainment history and one of the best selling solo recording artists in the US. Streisand's iconic status has been parodied on such TVs and Movies as

SNL

,

South Park

,

Mrs. Doubtfire

,

The Simpsons

and many more. Her jewish physique is far from the cries of typical Hollywood beauty, yet she's still managed to win more awards in music and film than all the Britney Spears and Lindsay Lohans combined. That kind of success is deliciously sexy and certainly won't rain on our parade, making Barbara our #5 pick.





4. Hillary Clinton


Hillary Diane Rodham Clinton is the junior United States Senator from New York, and was a candidate for the Democratic nomination in the 2008 presidential election. Among her political throes, Clinton has always been a big health care, women and children advocate and has received over a dozen awards and honors during her career, from both American and international organizations, for her activities concerning these important, and often overlooked, issues. In the 2008 presidential nomination race, Clinton won more primaries and delegates than any other female candidate in American history. Hillary Clinton knows how to rock a business suit like no other and is always seen sportin' that same "I am woman hear me roar" haircut. Any woman that has the balls to run for US President is pretty sexy in our book (sexy for an older lady, that is) and our #5 pick on the list.





3. Kirsty Alley


Kirsten Louise "Kirstie" Alley is an American actress known for her role in the TV show

Cheers

, in which she played Rebecca Howe from 1987-1993, winning an Emmy as the Outstanding Lead Actress in a Comedy Series for 1991. You may also know her as the lead mother in the

Look Who's Talking

movies, among others. In 2005, after her weight ballooned to over 200 lbs., she headlined a "mockumentary" style comedy series for Showtime called

Fat Actress

. Alley played herself in the show, which details the (fictitious) daily life of an overweight actress trying to make it in Hollywood. Alley has become an advocate against obesity and was a spokeswoman for the Jenny Craig weight-loss program. Big, bold and beautiful and definitely not fitting into the skinny Hollywood mold makes this funny lady our not-so-slim yet sexy pick for #2.





2. Hillary Swank


Hilary Ann Swank is an Academy Award winning American actress. Her Hollywood film career began with a small part in

Buffy the Vampire Slayer

and then a major part in

The Next Karate Kid

, where she played Julie Pierce, the first female protégé of the sensei Mr. Miyagi. She has become known for her two Academy Award-winning performances: first as Brandon Teena, a transgender man in the movie

Boys Don't Cry

, and a struggling waitress-turned-boxer, Maggie Fitzgerald, in

Million Dollar Baby

. Hillary Swank is definitely someone that puts her whole self into her characters, and has even developed potential health problems, including elevated mercury levels in her body, through certain preparations for her roles, including weight gain and loss for

Boys Don't Cry

and

The Black Dahlia

. She's been criticized for having a large mouth and resembling a horse, but we think her smile is gorgeous and incredibly sexy giving her a definite spot at the top of our list with #2.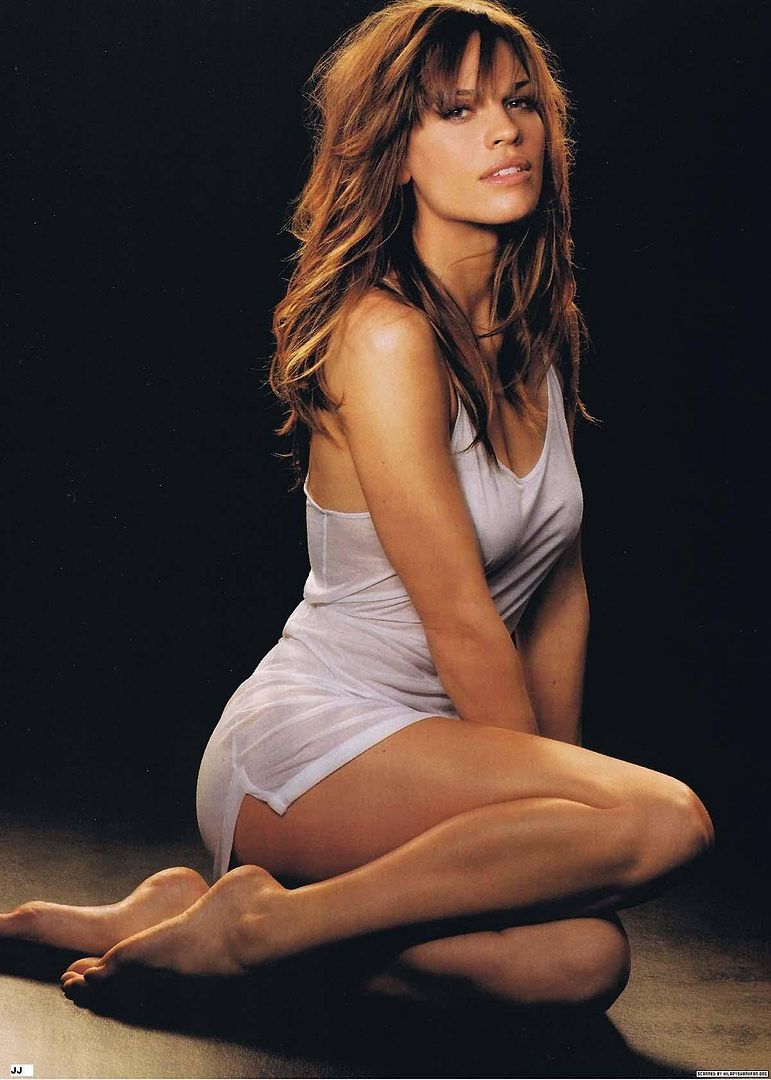 1. Sarah Jessica Parker


Sarah Jessica Parker is an American actress and producer, with a portfolio of television, film, and theater performances. She is best known for her role as Carrie Bradshaw, a columnist, on the HBO television series Sex and the City, for which she won four Golden Globe Awards, two Screen Actors Guild Awards and two Emmy Awards. She played the same role in the feature film version of the show, which was released on May 30, 2008. When Maxim released their list of the Top 5 Most Unsexy Women Alive and put Sarah Jessica Parker at the top of the list... we were flabbergasted. OK, she's not the prettiest girl in Hollywood, and she takes a lot of heat for the wacky outfits she wears but unsexy? At a measley 5'4", not only do we think she's a small bundle of sexy (with amazing arms), but after watching the Sex and the City movie (over and over again) we think she's just plain fabulous making her our #1 pick for Sexy-Ugly Celebrity.




Who else is worthy of this list??


Technorati Tags: sexy,, ugly,, beauty,, celebrities,, non-conformity