The 2008 Summer Olympics are in full swing and everyone knows that the Olympics signify the best of the best athletes in the world. I have decided to take on a slightly different approach to Olympics. I've created
Renee's 2008 L Word Olympic Dream Team
. That's right, ladies, I've come up with the BEST of the BEST for Ilene Chaiken's " The L Word" .
Now, before I divulge to you all my secret L Word fantasies, I would like to preface this article by saying that I have absolutely no qualms about the current casting situation of the L Word. In fact, I think the show has been cast impeccably and I would not have it any other way (unless of course, it's my way). On one of my many day-dream fantasies, I started to imagine what the L Word would be like if I had the magical ability to re-cast it with whomever I wanted. Can you imagine? You're sitting at home with your 12 cats, watching the same horrible re-runs of Tila Tequila when the Sugar Plum Lesbian shows up at your window and grants you the ability to re-cast the L Word with ANYONE YOU WANT. Hello, orgasm. Goodbye, boredom.
I started to think on this, real hard, and then I asked around to see what my friends thought. Of course, I value their opinions tremendously but you must remember, this is my fantasy so the final picks will be the birth of my own brain child…so, without further ado, I would like to introduce you to
Renee's 2008 L Word Olympic Dream Team
. And because I'm such a photoshoppin' whore, you get the visual stimulation as if they were the real deal. That's right, ladies, feast your eyes on this!
The Real L Word
Renee's 2008 L Word Olympic Dream Team
Jackie Warner as Shane McCutcheon

– Here is one sexy soft butch with a rebellious side who has more draw with housewives than Martha Stewart and Betty Crocker combined. Gay? Straight? It don't matter, if you're a woman, you're bound to want to sleep with Shane McCutcheon's character. My pick for Shane McCutcheon goes to Jackie Warner: slim, built and edgy with a hidden sweetness to her confident-bordering-cocky attitude. This work-out queen is one stud that could easily sweet talk her way right into my bedroom, no questions asked.




Olivia Wilde as Jenny Schecter

– There were three requirements for the role of Jenny Schecter: gorgeous, intelligent and mysterious. Jenny's character has transformed more times than a caterpillar in springtime, but Season 5 showed her less as the evil, manipulative Jenny and more as the target of her new, more-evil-than-anyone-could've-imagined assistant. My pick for Jenny Schecter goes to Olivia Wilde (who currently plays #13 on HOUSE m.d.): sweetly intelligent yet overly mysterious, this is one brunette who makes me go a little weak in the knees when she smiles. You might also remember her as the hot rocker chick lesbian who gets it on with Mischa Barton in the OC. She'd be the perfect solution to the Jenny Schecter character and damn, it'd be pretty fantastic to see her getting it on with Nikki (played by Kate French).



Angelina Jolie as Bette Porter

– A woman who
knows what she wants is a woman after my own heart. Bette Porter is the embodiment of sexy, aggressive, smart and ambitious. Despite this, she always seems to get herself into complicated relationships, complete with a boatload of lesbian drama. Somehow, though, she pulls them off with grace, sophistication and style. Bette is your classic "power lesbian." My pick for Bette Porter is Angelina Jolie. To me, this choice was a no-brainer. Take Angelina Jolie circa "Mr. & Mrs. Smith", complete with all the attitude of an assassin (minus the actual part about killing people) and couple it with all the amazing sex scenes Bette is in, and voila! a star is born! Having the drop-dead gorgeous, smart and assertive Angelina Jolie as Bette Porter would be like winning the visual lottery. Can you say "Score!!"?




Reese Witherspoon as Tina Kennard

– Sweet, caring, genuine and somewhat of a push-over, Tina always tries to do the right thing in any situation. She's spent most of the series blinded by her love for Bette rendering her unable to move on in any relationship and thus stuck in a stagnant state of Bette-related adoration. My pick for Tina Kennard is Reese Witherspoon. Reese's adorably, sweet Southern-bell attitude coupled with a smart-yet-definitely-blonde manner, is why I think Reese would make an impeccable Tina. Now, close your eyes and picture Reese Witherspoon and Angelina Jolie getting it on. Hot.






Queen Latifah as Kit Porter

– Musician, entrepreneur and one bad-ass mamajama, Kit Porter is a diva like no other diva the L Word has ever seen. Although she's had her problems through the course of the show, she's got just the right amount of attitude, spunk and humor to make her one fierce, funny lady. My pick for Kit Porter was easier than picking out music at a lesbian wedding. Queen Latifah, musician, comedian and entrepreneur, could easily be Kit Porters stunt-double. I mean, those two could even be sisters!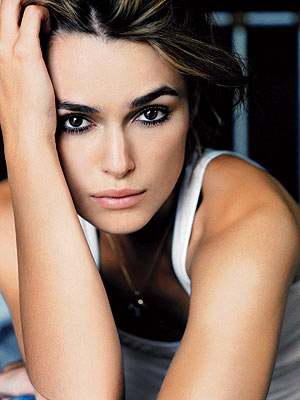 Keira Knightly as Helena Peabody

– One of my favorite characters on the show, freespirited socialite-heiress Helena Peabody, will knock your socks off with those bodacious curves and deliciously sexy British accent. Helena, who was portrayed in earlier seasons as a snobby elitist bitch, transformed a few seasons later as a sweet, caring friend with a big heart. My pick for Helena Peabody is the sultry brit Keira Knightly, who's yummy accent and bold personality make her the perfect choice for me to drool over, episode after episode.






Sandra Bullock as Alice Piezeki

– Also one of my favorite characters on the show, Alice is definitely the most dynamic, entertaining and hilarious character to watch. If I could have sex with anyone on the show, I would pick Alice because I think she would be the most amount of fun (think toys, role-playing and handcuffs…yeah!) My pick for Alice Piezeki would be Sandra Bullock, hands down. Not only is Sandra Bullock my all-time favorite actress, she's also the hottest woman alive and my future wife (married polygamously, of course, to me and my girlfriend). I believe Sandra has the same spunky, fun and hilarious personality as Alice and epitomizes the girl-next-door (you know, the one who you want to take into the shed and ravage like a wild animal). Plus, Sandra would be the perfect lesbian. When I dream, I dream big.



So there you have it. My 2008 L Word Olympic Team. You might love it, you might hate it; either way it came from my brain and wins a gold medal in my book. So now I must ask you…



Who's on YOUR 2008 L Word Olympic Dream Team?