I love indie flicks, in fact, I'm always searching for the newest, coolest and most obscure indie flicks around. And I have to say, thank god for Netflix because I have a plethora of indie films at my very disposal. One of the great new features of Netflix is the ability to watch live, streaming films right on your computer (in addition to getting them in the mail). And being the techie that I am, I then hook my laptop up to my TV and voila! I have over 5,000 movies and TV shows at my fingertips. Now that I think of it, I'm surprised I ever leave my house at all.
I was browsing through the "instant-play" selections on Netflix when I came across "
Puccini for Beginners
" which caught my eye. I grabbed my girlfriend, a big old bag of kettle korn and snuggled up for another movie-watching extravaganza.
Puccini for Beginners is about New York writer and opera addict Allegra (Elizabeth Reaser, The Family Stone) who loves her girlfriend Samantha (Julianne Nicholson, Kinsey), but can't commit. When Samantha leaves her, Allegra rebounds with handsome philosophy professor Phillip (Justin Kirk, Angels in America) as well as the irresistibly beautiful, recently single Grace (Gretchen Mol, The Notorious Bettie Page). Allegra juggles secret relationships with both of them, never suspecting that Philip and Grace have a connection of their own.
The style of sophistication, the blend of humor and irony, and the fantastic touch of screwball sex as a comedy reminded me so much of one of my all time favorite movies, Kissing Jessica Stein. The very concept of dating and being intimiate with several people at once is pretty foreign to me; personally, I could not carry on as Allegra does without feeling seriously conflicted or confused. But I think we all know or have known someone in our life who is as emotionally cutoff as Allegra and can actually carry on in such a way for as long as she does. Ironically, it is subtly clear that she's not really over her ex, yet uses these new love interests as a distraction for the real issue at hand - her fear of commitment to the woman that really matters to her.
This movie was funny, witty, intelligent, charming and sophisticated. It made me laugh out loud, yet I also felt compassion both for Allegra's compromising situation, and for the two people who she is dating (who are convinced they are her one and only). I think many people can relate to this movie: lesbians, straight men, straight women, etc. Many lesbians have found themselves questioning their sexuality and some have even gone so far as to date a man in those moments of sheer confusion. Many straight women have also entered into a relationship with a woman out of complete frustration for men (and who can blame them?). And of course there's that breed of heterosexual male who is convinced he can make a lesbian turn "straight" (only to be wholly disappointed in the end).
In "Puccini for Beginners" Writer/director Maria Maggenti ("The Incredibly True Adventure of Two Girls in Love") creates for her characters a tiny, twinkle-lit New York in which everyone knows everyone else, and friends bump into each other in bookstores or gather in quaint cafes to discuss Kant, "Turandot" and glassblowing with an essence of Sex and the City. Don't expect Oscar-nominated performances, but if you're looking for a romantic comedy with a likable smartness to it much like a good Woody Allen film with a gay twist, than I am confident you will enjoy this movie.
Check out the trailer!
Make a Lesbian Fashion Statement
Shop at the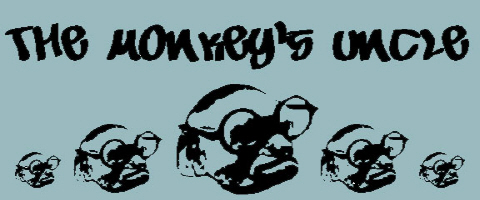 Roses are red, violets are blue, please leave your comment, after your reading is thru.