Listen carefully. Can you hear that? The thumps and the splats?


As Les Nessman said of the turkeys WKRP dumped out of a helicopter onto a Cincinnati parking lot: "They're hitting the ground like sacks of wet cement!"*

And of course – since it is mid-January – I'm not talking about actual turkeys, but New Year's resolutions.

I'm sure you can already tell I'm not a fan of NYRs. Like the straightest "1" and the gayest "6" on the Kinsey Scale, they tend to polarize at the extremes: The simplistic, "I'll try to be a nicer person," and the foreboding, "I'll quit smoking, lose 75 pounds, and summit Mt. Everest this year."

I'm also not a fan because NYRs are usually based in self-deprecation. It's as though we've developed a national tradition of beginning each year by picking ourselves apart, finding a fault, and setting a goal that will focus our attention on that fault, all year long. What kind of way is that begin a new year?

I believe in a moderate approach and beginning the year in the spirit of self-kindness.

I'm speaking from a little bit of experience here. I'm fitter, stronger, and leaner than I've ever been in my life, although I'm still a far cry from being a Yoga Journal calendar girl. Still, I say this with some pride because, obviously, I'm also older than I've ever been in my life.

After years of fighting with my body and compromising myself in many ways, about eleven years ago I found a more gentle path, and since then I haven't launched any new workout routines or crash dieted. Still, every year I get a little healthier, I weigh a little less, and I can do something I couldn't do the year before.

I know that in an era obsessed with immediate transformation, I'm talking about something that seems awfully dull and plodding: Personal Incrementalism. Still, I'll bet you that my PI will blow the reduced-calorie whipped topping off of your NYR in the long haul, and I'm suggesting you give it a try in 2008.

So what do I mean by Personal Incrementalism? As one of my friends would say: Eating the elephant one bite at a time.

It's simple. Instead of trying to overhaul your life, identify the small changes that matter the most to you and make them.

If your goal is to lower your weight and doughnuts are your weakness, then don't run out and sign-up for a whole depravation diet program – eat a few less doughnuts. When you do eat them, walk to the Krispy Kreme. Throw in some healthy snacks in place of the missing doughnuts and you'll have a program you can stick with. At the end of the year, you'll most likely see some changes.

If your objective is to have a more vibrant sex life, identify the impediments and work on them. Exhaustion, poor nutrition, high stress levels, being out of shape, smoking, medications, and health conditions can all mess with your libido and your ability to meet partners or make quality connections with the one you have. Small lifestyle changes like getting more sleep and getting a little more exercise can have big payoffs between the sheets.

(Last year, my friend K. quit smoking after a phenomenal number of years. She is in her 40s and had smoked since her early teens. I consider her story to be one of the year's triumphant success stories. Recently, I asked her what finally prompted her to quit and she said "I wanted to get laid more." There you have it. Here in Northern California, smoking is an impediment to dating. By the way, she reports that her plan has worked very well.)

For many years now, I've set a New Year's intention and a physical goal. My intention is usually spiritual in nature and addresses something in my life I'm working on. Last year, after a painful breakup, I realized how quickly I can shut down and become defensive when I feel hurt or threatened. This year's intention is to try to approach all situations in my life with an open heart (and a big, deep breath). I've written that down and am keeping it in a place where I can reference it often, to use as a touchstone when I feel myself throwing my emotional emergency brake.

One year my physical goal was to learn to rock climb, and I lifted weights and worked out at an indoor climbing gym before taking climbing trips in Arizona and Joshua Tree. The past few years, as I've moved more deeply into my yoga practice, I've set my physical goal by choosing a yoga pose that I'd like to be able to do by the year's end. That way, I need to spend the year addressing the components of that pose.

Two years ago, my goal was to be able to get both feet off the ground in a pose called Eka Pada Koundinyasana, or what my 11-year-old son calls "the break-dancing pose".



To do this, I had to work on increasing my core and arm strength. I had to become more flexible in my hamstrings and my hips, and learn the mechanics of the pose – the muscle memory of how it should feel. Basically, this means I had to figure out where my limbs would end up. I also had to learn how to exit the pose without collapsing on my mat in a heap. At the end of the year I had lift off, which was incredibly exhilarating. The next year's goal was to be able to perform the same pose on the other side of my body. (I kid you not!)



Last year's goal, Parivrtta Surya Yantrasana or Compass Pose, encouraged me to continue working on my hamstrings and hips, and my ability to twist more deeply. I also had to work on loosening the chronic tightness in my outer shoulders.

I'm not certain where I'm going this year, but in line with my spiritual intention to keep my heart center open, I'm thinking it will be a back-bending pose. (My son thinks my goal should be a pose where I put my foot behind my head because one of the girls in his fifth grade class can do this and he thinks it's incredibly cool. My sweetie is afraid I'll get stuck there.)

I know that if you're not a yoga practitioner, these poses may look improbable, but it really is about eating the elephant one bite at a time.

My motivation for my physical goal is to increase my fitness, continue to decrease my weight, (
here's a link to an essay I wrote about how yoga and weight loss are interlinked, if you're interested in reading more about it
), and have fun along the way. Always, one of my goals is to treat myself kindly.

So, I encourage you to throw out any self-deprecating NYR turkeys and replace them with goals that can fly – goals that will make you feel good about yourself all year long.

Consider making small changes that will benefit your health. Choose activities that use as many of your muscles as possible. If you're not an exerciser by nature, think about walking more. If you walk for exercise, consider swimming or yoga to involve more of your body. Dance whenever you can. Think about reducing the things that don't benefit you – smoking, drinking, diet sodas, high-fructose corn syrup (as examples) – and increase the things that do, like quality sleep, massage, exercise, spiritual practices, and great sex. Consider eating foods with less fillers and preservatives, and drinking more water.

But most of all, take a vow to treat yourself kindly.

Happy New Year.


*(We all understand this was a television comedy, right? Unlike Thanksgiving, no actual turkeys were harmed.)

Make a Lesbian Fashion Statement
Shop at the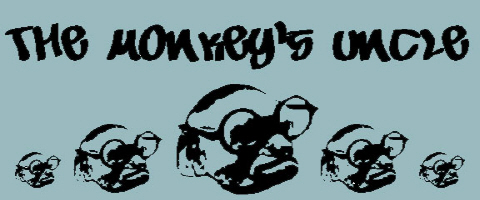 Roses are red, violets are blue, please leave your comment, after your reading is thru.
Tags: