This two-part special on the Lesbians of Grey's Anatomy is brought to you by Lesbiatopia's guest blogger
Selin Ildokuz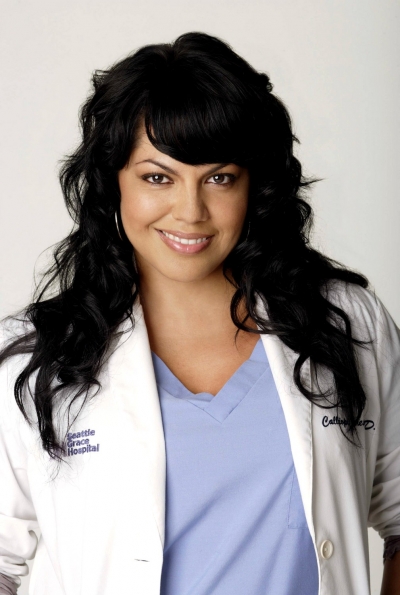 Callie Torres is an Attending Orthopedic Surgeon at Seattle Grace Mercy West Hospital. She likes to sleep around and not just with anyone, no, with Mc Steamy aka Mark Sloan. She was previously married to George O'Malley and then everyone made fun of her and called her Callie O'Malley. Callie dancing is pretty darn sexy.
Erica Hahn was an attending Cardiothoracic Surgeon at Seattle Grace Hospital. She was a mean person to everyone on the show except Callie, whom she has a thing for as we later found out. We didn't really know much about her past, just that she was second in her class. (She is not really my cup of tea, if I may say so myself.)
Callie and Erica's Story:


It all began when Erica and Callie were always hanging out, like they were
inseparable. They used to hang out at Callie's apartment and have a couple of beers and whine and just talk about how their day went. Erica was always mean to young up-coming Cardio God Christina Yang, it was like her favorite hobby and it really angered poor Christina. So she talked to Callie and she got Erica to "soften" up a bit. Not too much but she was still her evil old self. Then Addison Adrianne Forbs Montgomery-Shepherd (that's a mouth full to say!) who is Callie's friend from Los Angeles, comes by and starts wondering if Callie is "speaking the Vagina Monologue now?" Callie just looked at her and said "No. I like penis. I am a huge fan of penis." (So she says for right now). In an episode called "Losing My Mind" Callie and Erica taught Mark Sloan (man whore) into having a threesome. But Mark claims that he was a new man and got up and left. Later in that episode, Callie, Erica and Mark all get in an elevator. (And if I know one thing about Grey's Anatomy it's that, that particular elevator must be the slowest elevator in the world). Erica and Callie are still taunting Mark about a threesome and Erica mentions to Mark that he cannot handle a threesome. He argues with her and then Erica kisses Callie on her lips. After kissing Callie, Erica walks out of the elevator and tells Mark he really can't handle it. Mark tells Callie to meet him in the on-call room in ten minutes and then walks off pissed. Callie (is complete and total shock) then walks out of the elevator and fallows Mark. (Note: On-Call rooms in Grey's are not used for sleeping). Callie the next day calls Mark her boyfriend and shuts Erica out. Erica tells her that she doesn't make friends easy but she made friends with Callie, and Callie ends up feeling a little bit bad. In the last episode of season four which is called "Freedom" a patient stuck in cement comes into the hospital. (There are many odd cases on Grey's this just so happens to be one of them). The boy had laid down in a bed of cement because the girl he likes was watching his every move and he just could not chicken out. (This episode revolves around Callie and how if she wants to be "free" she has to tell Erica how she really feels, and "escape her cement") At the end of the episode Callie finally confronts Erica and kisses her, and Erica kisses back. This is the beginning of the only regular bisexual/lesbian couple currently on network television. (As stated by on After Ellen)

Callie and Erica soon in an episode called "A Brave New World" (which was for Callie and Erica, now known as Callica) One of my favorite quotes from the series would be from Dr. Miranda Bailey "The va-jay-jay is undiscovered country. It is the mother land. You've never traveled there... You don't know its customs and ways. Now me? I've always wanted to go to Africa. But if I go, I'm going to have to learn a few things first. I'm going to have to prepare. I'll need shots. Bring my own syringes, in case something goes wrong. And I'll wanna know how to get to the embassy." Another great quote from the episode would be from Callie herself "It's awkward. Because she's a colleague and because she's an attending and because she's a ... she. There's been kissing, but ... no touching and what if I'm not into it? What if I'm horrible at all that stuff... south. I've never been south of the border. With a female. I mean, I've never even been over the ... northern mountains, if you know what I'm saying." So they have sex and Erica has a revelation! She realizes that she is truly gay.

News of all of this goes up to the big boys in the ABC Company, and soon Brooke Smith is fired from the cast of Grey's. The last episode that Brooke Smith was working on, I believe to be her best. Callie took the side of one of the doctors in the hospital over a matter that happened about 2 years ago. (Don't kill me if my time line is messed up!) Erica got mad that Callie and the rest of the staff at Seattle Grace was coving for her. She yelled at poor Callie and said that she had no idea who Callie was and stormed off into the parking-lot-of-doom. (There is this hole back-story to Grey's about how they can't keep a single Cardio surgeon and with Erica gone that makes the count to 2).

(The reason Brooke Smith got fired was "not because she was a lesbian" but because "there was no chemistry between Erica and Callie. I believe this to be false, but that's just me and I can actually think like a writer on Grey's. I believe she got fired because she was playing a lesbian role, now I didn't really like Brooke's acting as the lesbian, but I liked her better as the bitch that everyone hated. But I mean if word came down from the heads of ABC to fire her, no questions were asked, but everyone knew semi-why.)

Callie is completely crushed until, well until Sadie comes along. Sadie is a natural flirt and she is very annoying and odd. But I suppose everyone has a place. Callie believes that she is falling for Sadie and she soon realizes that she was only replacing the hole in her heart and not actually letting it heal. Sadie gets fired because she has no idea how to be a doctor, or how to actually save people's lives. She leaves and we are once again left with one lesbian. (Sad I know but its get waaaaay better!)

Arizona Robbins played by Jessica Capshaw Picture below:


She is the head of Pediatric surgery at Seattle Grace Hospital. She is kind of like a child herself. She wears roller shoes and is super perky. And I mean SUPER! She is also pretty hot (if I do say so myself). She has her down moments and sometimes ends up crying. Her personality is "quirky." She replaced another doctor who died of a heart attack. During Arizona's residency she was chief resident. She wears a pink scrub cap to appeal to her little patients.




Stay tuned for Part 2 of "Navigating the Lesbian Landscape of Love" with Callie and Arizona's story...